Whipped Feta! A creamy, garlicky, salty spread that you will find yourself putting on EVERYTHING!
Who knew this decadent cheese recipe was really so simple? Not me, otherwise I would have made it earlier haha 😛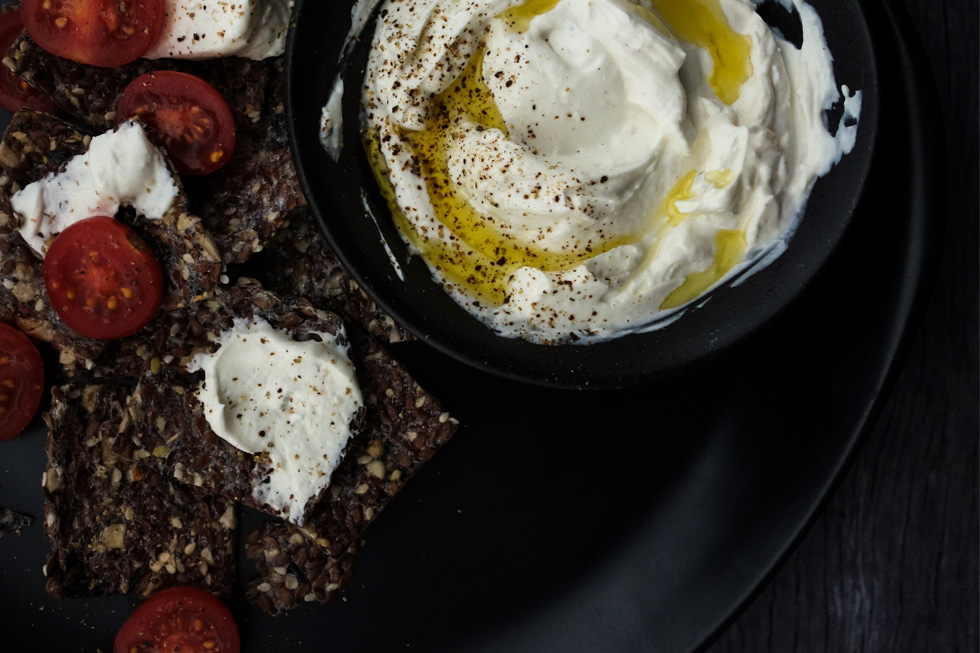 Last weekend the foodie friends and I met for a picnic at the park. There is a deep need at this time of year to soak up the last of the sunshine before winter hits (#australianproblems); and what a beautiful warm day it turned out to be – perfect for picnicking!
We each brought a dish to share and my contribution was some savoury zuchinni and corn fritters. But I wanted to make them that bit more fancy and what better way to do that than to add cheese!
The combination of roast garlic, salty Danish feta cheese and creamy yoghurt with a hit of black pepper went perfectly with the fritters. The spreadable texture also makes it perfect for dips, crackers, salads or spread on top of a slice of my ever popular Nordic Nut & Seed Bread.
Have you ever roasted garlic? If not, you should! Roasting garlic actually mellows its flavour and instead of a strong and spicy taste, you are left with sweet, savoury, creamy garlic cloves ready to be incorporated into hummus, butter, cauliflower mash, or this whipped feta of course! I always roast a whole bulb or more and place any leftovers into the fridge to use in other recipes
And remember, make your oven work for you – if you're going to be roasting some garlic cloves, chop up a bunch of vegetables, place them onto a baking paper lined sheet tray, drizzle with EVOO or ghee and season with salt, pepper and your favourite herbs – and roast them at the same time. Veggie meal prep done!
Right, onto the recipe 🙂
Start by placing a bulb of garlic into a ramekin (cover with foil) or a mini casserole dish. Drizzle with a little olive oil and roast at 200 degrees Celsius (392 Fahrenheit) for 45 minutes or until golden. Leave the garlic to cool completely. You can do this step a day ahead and just wrap the garlic bulb and keep it in the fridge until needed.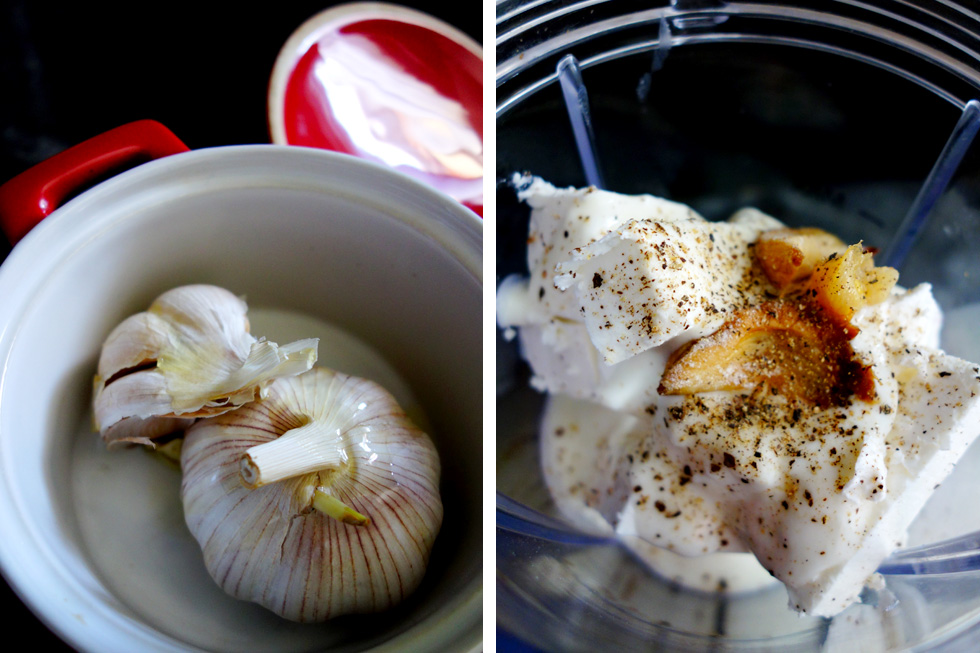 Roughly chop the Danish feta. I use Danish in this recipe for its creamy texture but if you can't find it any feta will do. Place the feta and all remaining ingredients into a blender or food processor.
Pinch the ends of the garlic cloves to pull the skin away and squeeze out the roasted garlic. Place into the blender with the rest of the ingredients.
Process for 10 seconds. Stop and scrape down the sides of your blender with a spatula. Process for another 5 seconds. Check that there are no large lumps of garlic (if there are, scrape and process again for a few more seconds).
Transfer to a dipping bowl and drizzle with more extra virgin olive oil and cracked pepper.
Dip in fresh veggies or spread on top of seed crackers, sweet potato rounds, zucchini fritters or onto a slice of Nordic Nut & Seed Bread. Top with fresh herbs, sliced cherry tomatoes, prosciutto or avocado. Enjoy <3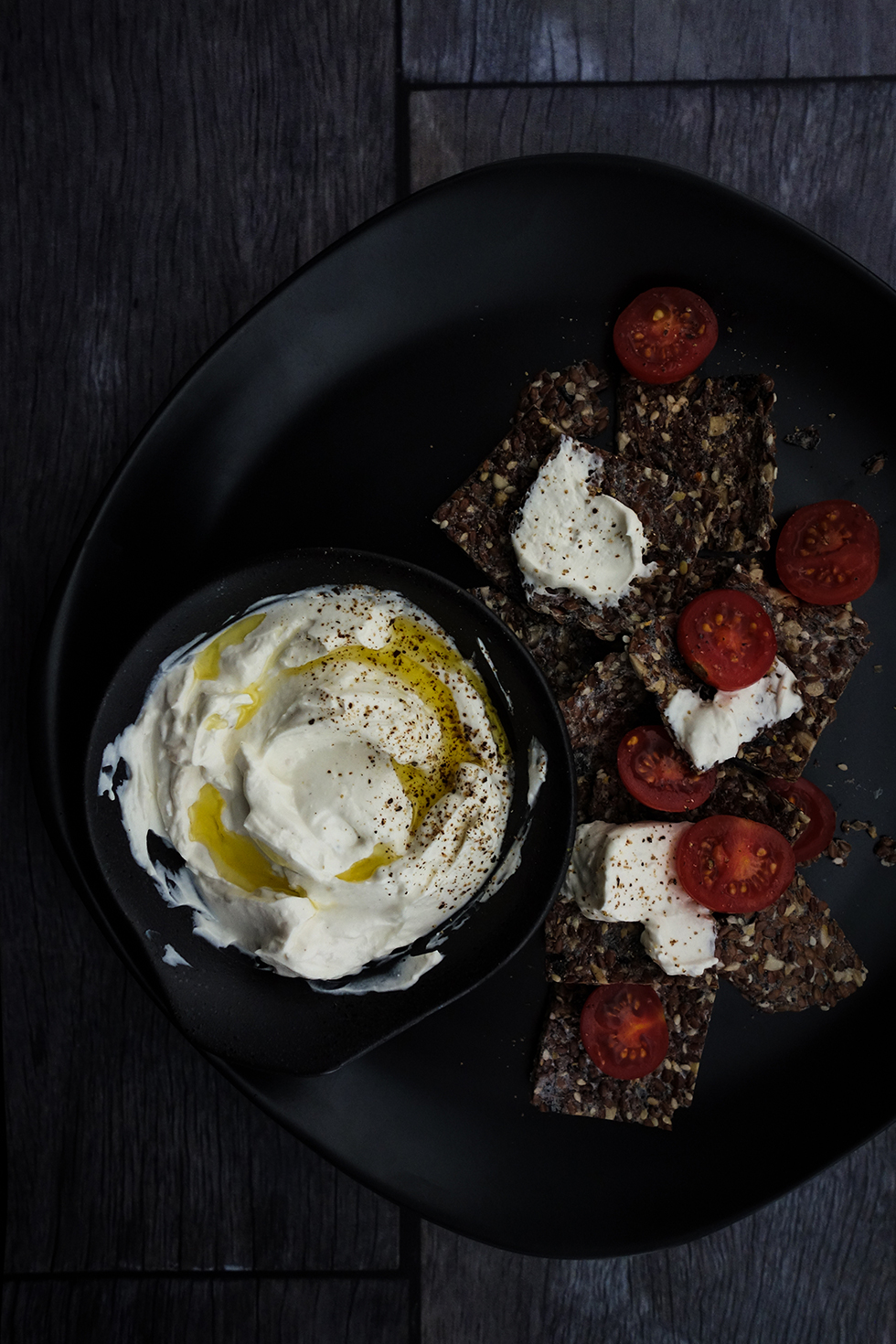 Roast Garlic Whipped Feta
Instructions
Place a bulb of garlic into a ramekin (cover with foil) or a mini casserole dish. Drizzle with a little

extra virgin olive oil

and roast at 200 degrees for 45 minutes or until golden. Leave the garlic to cool completely. You can do this step a day ahead and just wrap the garlic bulb and keep it in the fridge until needed. Use the remaining roasted garlic in another dish like hummus!

Roughly chop the Danish feta. Place the feta and all remaining ingredients into a blender or food processor.

Pinch the ends of the garlic cloves to pull the skin away and squeeze out the roasted garlic. Place into the blender with the rest of the ingredients.

Process for 10 seconds. Stop and scrape down the sides of your blender with a spatula. Process for another 5 seconds. Check that there are no large lumps of garlic (if there are, scrape and process again for a few more seconds).

Transfer to a dipping bowl and drizzle with more extra virgin olive oil and

cracked pepper.

Dip in fresh veggies or spread on top of seed crackers,

sweet potato rounds

, zucchini fritters or onto a slice of

Nordic Nut & Seed Bread

. Top with fresh herbs, sliced cherry tomatoes, prosciutto or avocado. Enjoy <3
Notes
Add in more roast garlic cloves for a stronger hit of garlic
Add in dried or fresh herbs of your choice at Step 3 e.g. parsley, basil, oregano, chives
Add in the zest of 1 lemon (at Step 3) for a fresh zing!
Store in the fridge for up to a week. Give the mix a good stir if any of the oil starts to separate
Tried this recipe? Tag us on Instagram @theconsumption or #theconsumption
This content may contain affiliate links but all opinions and recommendations are always my own. Read Terms of Use for more info.
1